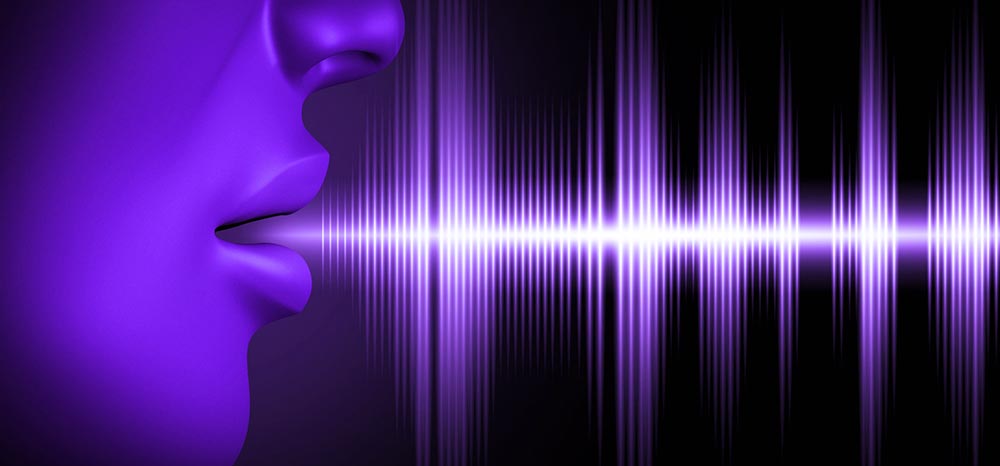 The sound of your voice comes from air expelled from your lungs which creates a pressure on the tissue of the larynx - your vocal cords which vibrate and create audible pulses which in turn creates your voice.

A singer uses their vocal cords as an instrument to produce music and sounds from their mouth. The mouth acts like a loudspeaker to project this sound outwards for others to hear.

When you speak, you hear the sound of your own voice from two sources.
1. You hear the sound of your voice from your inner ear. Sound waves entering your eardrum are transmitted to the inner ear where they are transformed into electrical impulses via the auditory nerve and then sent to the brain. The brain then translates these impulses as sounds with which we are familiar.

2. You hear the sound of your own voice as your outer eardrum picks up the waves of sound being transmitted from your mouth through the air. This is one of the reasons why most people do not like the sound of their own voice when it is recorded and played back to them. They are so familiar with hearing their voice from these two sources they believe that this is the actual sound of their voice. The sound of your voice as others hear it, is the sound that is projected through the air from your mouth.

If you have tried singing and have only heard your voice recorded on a dictaphone, answer phone or mobile phone, take solace in the knowledge that the microphone that captures your singing voice on any of these appliances may be limited in frequency range.

When you hear the sound of your voice when recorded on a proper studio microphone with a wide frequency range you may be pleasantly surprised at how beautiful and melodic your voice really is.

How the brain interprets electrical signals as recognisable sound.
There are numerous small neurons located in the brain which are responsible for the processing of auditory information. Sound enters the outer and middle ear. The hair fibres of the cochlea, the snail shell-resembling organ of the inner ear, then send electrical signals to the auditory nerve.  These impulses are then transferred to the auditory centre of the brain where they are interpreted as sound

What does a sound wave look like?
Sound waves are not visible to the naked eye. Sound waves however can be felt and we can feel and sense the power of sound waves all around us.  Visually sound waves can only be seen when captured or recorded on computer screen, electronic and sound recording equipment. Some sound waves look like undulating water waves.